No Soy, No Wheat, No Corn Organic Feed. No GMO's. No Feedlots, No Confinement.
Half Pig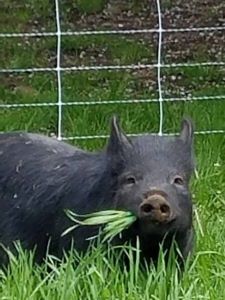 | | |
| --- | --- |
| 1 Half Pig | Approx 100 pound @ $5.85/pound = $585.00 + $0.00 Assembly | Out of Stock |
Available at various times. If you want to be sure to get a half pig from us this year, consider using the other option and pay a deposit for one or two or more by going to the "DEPOSIT for bulk meat purchases" section. That way you can also specify just how you want it all cut, seasoned and packaged. If instead you got lucky and there's one available right now when you want one, it is already cut and packaged and will include pork chops, shoulder roasts, pork steaks, spare ribs, tenderloin, ground pork or breakfast or Italian sausage, a half ham and a few slices, and bacon. Just how much of each cut you get will depend on how big or small the pig is, but you get all of your half pig in your purchase. This will need about 3 cubic feet of freezer space.
Website and Online Farm Store Powered By
Eat From Farms