No Soy, No Wheat, No Corn Organic Feed. No GMO's. No Feedlots, No Confinement.
Ground Beef Bundle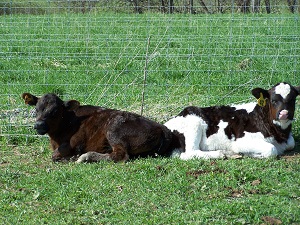 1 bundle | Approx 10 pound @ $7.50/pound = $75.00 + $0.00 Assembly
We're doing it again! PRE-order for a share of a cow that will supply ground beef for your freezer. You will be buying a share. The cow has not gone to the butcher yet but will go in July as soon as I have enough orders for it, and ready to pick up about a week after that. I am offering shares in 10 pound shares and each individual package within the 10 pound share could be between 1 and 1-1/2 pounds. Also available is packages of ground beef patties, 4 quarter pound patties per package. Tell me in the comments if you want patties in your order. You can order as many shares as you like with a deposit that will cover the cost and then can be evened up when you pick it up if the weight is off a bit (likely). This beef comes from a retired certified organic milk cow and only ground beef packed in what I call "those wretched tubes" will be available, except patties which are packed in the usual way. Final price will reflect $7.50 per pound in your package. This reflects a cost saving of $1.50 per pound over the current cost of our usual ground beef. This offer may or may not be repeated in the future so take advantage of it now!
Website and Online Farm Store Powered By
Eat From Farms