No Soy, No Wheat, No Corn Organic Feed. No GMO's. No Feedlots, No Confinement.
DEPOSIT for Free Range Turkey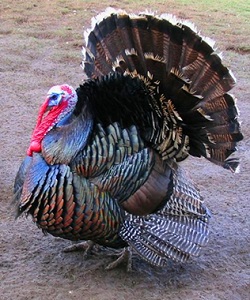 1 Deposit for whole turkey | 1 Deposit = $20.00 + $0.00 Assembly
Our turkeys are raised on pasture, free range within a generous sized area that protects them from predators with electric netting and our wonderful livestock guardian dogs. They have open shelters available to access at will for shade or rain cover if necessary but are never confined. In addition to their intake of grass, leaves, bugs and whatever is in the dirt they seem to like, they receive certified organic feed daily that contains no soy, no corn and no wheat. They are available fresh at various times each year beginning in about late July until some time in October. I can raise them to a particular size by special order with a deposit, and sizes will vary otherwise from about 10 to 20 pounds depending on dates of butchering. Turkeys cost $7/lb whole and are packsged ready for your freezer.
Website and Online Farm Store Powered By
Eat From Farms