No Soy, No Wheat, No Corn Organic Feed. No GMO's. No Feedlots, No Confinement.
DEPOSIT for a Half Pig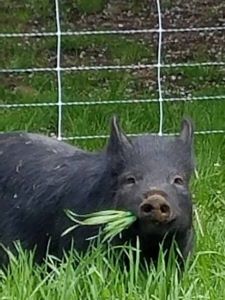 1 Deposit for a Half Pig | 1 deposit = $100.00 + $0.00 Assembly
This is where you can put down a deposit on a half pig. If you want a whole pig just change the quantity to 2. First pigs should be ready for the butcher beginning in late summer this year and into late fall. First deposits get dibs on size and dates. You will pay the balance of $5.85 per lb for your pig when it is ready and you pick it up. The price per pound is based on the hanging weight (approximately 100-120 pounds per half pig) and includes the butcher costs for a normal cut and package of a half pig including up to 6 lbs of seasoned sausage making. In other words, I pay the butcher, not you, then there are no surprises at the end when you go to pick up your pork. Extra sausage making is 65 cents more per pound for the sausage made. Curing and smoking of pork is extra at 45 cents to $1.25 per pound for the amount of meat smoked (different cost for different smoking "flavors" or practices and it is your choice). The extra charges are just what the butcher charges for those extras, there is no mark up. Meat that is cured and smoked takes longer to be ready and will most likely require a second trip to pick that up.
Website and Online Farm Store Powered By
Eat From Farms