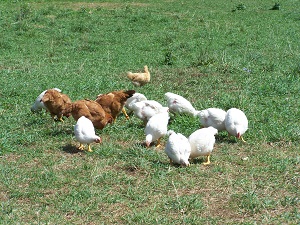 Due to popular demand our chickens are still raised free range style and supplemented with organic feed containing no corn, no soy and no wheat. Instead of soy, they get their protein from Flax, Sunflower, Field Peas, Alfalfa and foraging. Most all our poultry type livestock are raised only during the nice weather Organ meats and feet or heads are available with your whole chicken by request. Pick up fresh at the farm with a reservation, or if extra ones are available you can pick those up when they are ready. I will be aiming for weights to run 4 to 5 lbs but large roasters or small fryers can be ordered ahead also. Reserve yours with a $5 deposit per bird, deducted at pick up. Deposits are non-refundable unless I can not fulfill it for some reason. Chickens not sold within 4 days of slaughter will be available for sale as frozen chickens. Chickens sell like hotcakes so reserve yours promptly! Reservations are not absolutely necessary, but almost guarantee you get yours by putting you at the head of the line. 
It used to be the only way we got it but now people are afraid of a whole chicken after becoming accustomed to getting select parts from the store and restaurants. You can cut yours up and repackage it the way you want it, or roast it whole and turn it into several other dishes or just eat a nice roasted chicken. A roast chicken is so good, so easy to make and one of the ultimate comfort foods. Add a little mac & cheese and a side of veggies...YUM. Below is a link to Ina Garten's recipe for roasting your whole chicken. You can always count on her recipes. Some day I might figure out how to show you just how I do it. You can Google search how to cook a whole chicken and get tons of ideas, including ideas to divide up your cooked chicken to make and freeze several interesting meals for future thaw and bake dishes among other things. Think chicken salad, chicken and dumplings, chicken cacciatore, chicken divan, chickens fajitas, chicken tortilla soup, old fashioned chicken noodle soup, home made chicken stock, fried chicken, etc....  Click here to see how to roast a whole chicken
Don't know how to cut up a whole chicken? Whole uncut chickens stay freshest and are your best value.
Here is a fantastic recipe for roasting a whole cut up chicken. It is different and can be considered fancy or not. It was given to me by Chris Pollack, chef extraordinaire at the Pollack household. Following is a copy and paste from his own email to me. I know he uses chickens larger than 3-1/2 to 4 lbs at times, and also will make it with just thighs sometimes. I made it with a 4 lb chicken and it came out perfect. I eat the lemons, my husband does not.
Slow-Roasted Garlic and Lemon Chicken This is one of those recipes you just can't make once: That's to say, after the first time, you're hooked. It is gloriously easy: You just put everything in the roasting dish and leave it to cook in the oven, pervading the house, at any time of year, with the summer scent of lemon and thyme and of course, mellow, almost honeyed garlic.I change out the herbs, lemons, liquid depending on what's on hand. I got the idea of it from those long-cooked French chicken casseroles with whole garlic cloves and just wanted to spritz it up with lemon for summer. The wonderful thing about it is that you turn the lemon from being a flavoring to being a major player; left in chunks to cook slowly in the oven they seem almost to caramelize and you can eat them, skin, pith and all, their sour bitterness sweetened in the heat. You'll need 1 chicken (approx. 3 and a half to 4 pounds), cut into 10 pieces, 1 head garlic, separated into unpeeled cloves, 2 unwaxed lemons, cut into chunky eighths, Small handful fresh thyme, 3 tablespoons olive oil, 10 tablespoons white wine, Black pepper. Pre-heat the oven to 300 degrees. Put the chicken pieces into a roasting pan and add the garlic cloves, lemon chunks and the thyme; just roughly pull the leaves off the stalks, leaving some intact for strewing over later. Add the oil and using your hands mix everything together, then spread the mixture out, making sure all the chicken pieces are skin side up. Sprinkle over the white wine and grind on some pepper, then cover tightly with foil and put in the oven to cook, at flavour-intensifyingly low heat, for 2 hours. Remove the foil from the roasting pan, and turn up the oven to 400 degrees. Cook the uncovered chicken for another 30-45 minutes, by which time the skin on the meat will have turned golden brown and the lemons will have begun to scorch and caramelize at the edges. I like to serve this as it is, straight from the roasting pan: So just strew with your remaining thyme and dole out. Serves 4-6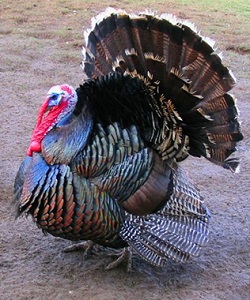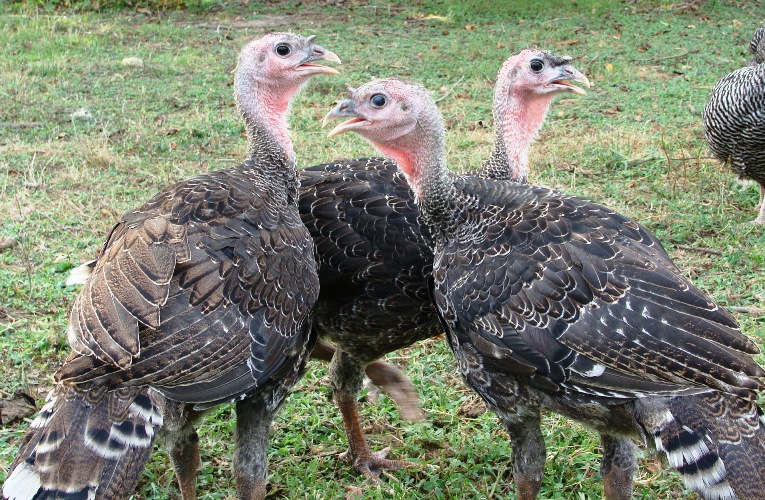 Each year we raise a small flock of turkeys. We only raise the bronze turkeys for quite a few years now. In the beginning we had both bronze and white turkeys and quickly realized that there was a lot of difference in their temperament and in the meat flavor. They also are free ranging and eat the same organic feed with no soy, no corn and no wheat as all our poultry. We no longer raise them to be sold fresh for Thanksgiving, a change that began in 2020. Now we finish them earlier and if you want a turkey for Thanksgiving or Christmas you would have to freeze it and take it back out for your holiday. We finish turkey processing in mid-October, and those are the largest ones reserved. Smaller ones are ready sooner. When you reserve one I need to know what size you would like. I can't guarantee it will be exactly right in size, but it will be close. The size you want will determine the approximate time it is ready also.
We also raise a small flock of Pekin Ducks each year, free ranging with organic feed that contains no soy, no corn and no wheat. We process many of them at a younger age for a smaller duck, Good size for 1 dinner for 2 people. Then we process a few more at a little older, good size for 4 people or 2 with a little leftovers, or for parting. Duck processing is very tricky with tight timing needed to avoid major pinfeather issues and is still a lot more trouble than a chicken. But because they taste so darn good we just can't forego them all together!

Duck eggs pictured, chicken eggs are brown shelled !
We have ducks AND chickens for laying eggs. They all live peacefully together. Beside scratching at the ground for whatever they find, they get certified organic feed containing no soy, no wheat and no corn daily. These eggs get such nice orange yolks throughout the grass growing season. Once it all goes dormant in the winter months, they still nip at it and all but somehow the yolk color doesn't respond the same way. Either way these eggs are so tasty, so fresh, so loaded with eggs-tra nutrition, that you will never want the commercial grocery store eggs again. These girls also get certified organic feed containing no soy, no wheat and no corn daily. For the record, what the USDA defines as free range, a term hijacked by them, is so fraudulent compared to  what you expect as a consumer, it's downright shameful. My birds truly get outside in a large area where they run, hang out where ever they feel like, nap outside, eat the ground, all at ease with the help of electric fence netting and livestock guardian dogs to keep them safe from predators. They have shelters scattered about that they can access at will in the event of inclement weather. We have a deal, I make the best life I can for them, and they give me eggs in return.