You have questions, we have answers!
COVID-19 RESPONSE      While I'm not doing deliveries in the area for winteyear as it stands right now, NO CONTACT CURBSIDE PICK UP AT THE FARM IS STILL AN OPTION. I will pack up your order, let you know your total and have your order waiting for you to pick within an appointment window of time. I will put your order out in a cooler for you to access quickly and easily when you're ready. You can either prepay online or over the phone, or pay by cash when you pick up. Please put on a mask before exiting your vehicle to pick up. Leave my  ice packs in the cooler. I sanitize the cooler between pick ups paying close attention to contact points. Please be assured that this is a safe and convenient option as I take "over the top" precautions to keep us all safe.
How much space Will I Need For My Meat?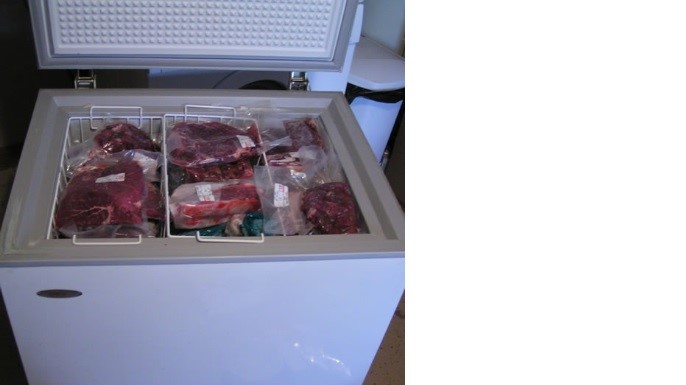 Thinking of ordering a half pig? Half cow? Stock up chickens for the winter? Since these products are only available at certain times it's a good idea! A good rule of thumb for predicting whether you have enough freezer space is that you need about 1 cubic foot of space for 30 pounds of meat. Whole chickens or turkeys need a little more. This isn't to say that a 10 cubic feet freezer is all you will want for 300 pounds of meat. Yes it will hold it, if packed in real well. and it's true that a full freezer runs more efficiently than a nearly empty one. But if you want to be able to find anything without moving everything, or if you don't want things falling out of the front of an upright freezer when you open the door or disturb anything, you need a little more space. I have changed my plans for dinner more than once when I considered the chore of finding something in the freezer. Consider an extra 10% to 20% for solving that problem and making life easier. Getting an upright freezer with a lock on it ( and actually locking it) can save you from having the experience of the freezer door popping open when something falls off the meat pile at night and you don't discover it until 3 days later when your freezer is running with the door cracked open and all the meat is thawed out. Ask me how I know. For the best long term storage of frozen meat, a freezer that is not "frost free" is best. That cycle of defrosting that goes on in a frost free freezer degrades your meat and package quality. It's just like trying to use the freezer that is on top of your refrigerator to store your meat long term. It doesn't work well for that. So get a freezer that you have to manually defrost occasionally. Chest freezers are the absolute best for this and for their efficiency, not to mention their initial cost is really quite low in my opinion. They use so little electricity, don't dump all their cold air out on the floor each time you open the door, and seem to last forever. I like to have a second small chest freezer as a back up, for overflow when I underestimated the space I needed, and to allow me to empty a large one when inventory got low so I could defrost and clean the big one as the opportunity presented itself. But one step at a time, baby steps.  If you plan to have that freezer in an unheated space in the winter like a garage, you'll also need a special freezer that works in cold places like that.